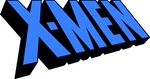 Welcome to the X-Men! Hope you survive the experience!
Browse the different categories and pages to learn more about a world that hates and fears you!
Comics | Films | Cartoons | Characters | Villains
Comics

Ongoing titles


Limited series


The X-Men

The X-Men are a fictional superhero team featured in comic books published by Marvel Comics. The group was created by writer Stan Lee and artist Jack Kirby and introduced in the first issue of the ongoing comic series Uncanny X-Men. Though it took them quite a number of years to earn their place in pop-culture history, the X-Men have developed an enormous fan base over the years and have yielded a successful multimedia franchise which includes dozens of spin-off titles, several animated programs, a feature film franchise as well as video games, novels, toys and apparel.
1980s team
Sub-groups
During the early 1990s, the X-Men roster had grown quite large, and a bit unmanageable. As such, the group was divided into two separate teams: The Blue team was led by Scott Summers and the Gold team was led by Ororo Munroe. Both teams made their first appearance in X-Men, Volume 2 #1.
Blue Team
Gold Team
History
1960s
| Event | Source | Date |
| --- | --- | --- |
| Cyclops breaks free of Magneto's restraints and fights up against Quicksilver. Magneto tries to recruit Cyclops into the Brotherhood of Evil Mutants, but he adheres to following Xavier's dream. | Uncanny X-Men 45 | 6.68 |
| Angel flies to New York to recruit the Avengers to help the X-Men fight up against Magneto and the Brotherhood of Evil Mutants. | Uncanny X-Men 45 | 6.68 |
1970s
1990s
See also
Appearances
---